FAMLI affects Colorado local government employers differently than private businesses. The statute was written to give local governments options to participate. Local Governments can vote to opt out of FAMLI anytime during 2022. This vote does NOT need to take place before July 1, 2022. No vote is required if the local government plans to participate in the program.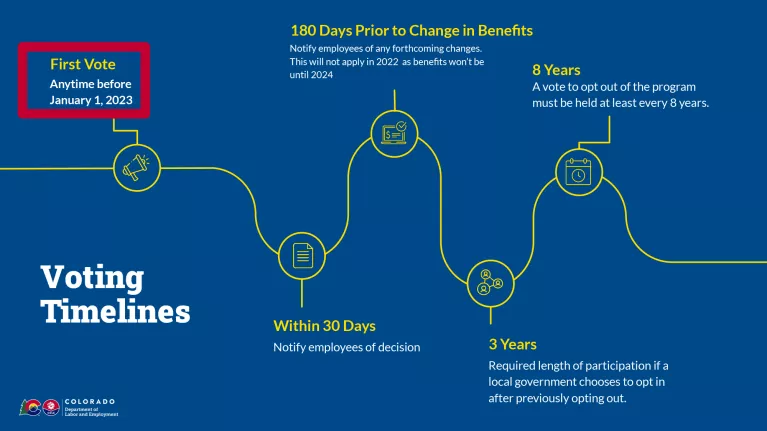 Options for Local Government Employers
Local government employers have three options when it comes to participating in FAMLI:
Local governments can: 
Participate in FAMLI

. 

Decline

ALL

participation.

 

Decline

EMPLOYER

Participation.
This option means that the Local Government has decided to participate, no vote is required.

Just like private employers, local governments which choose to fully participate in FAMLI, will share responsibility for funding the program with their employees. FAMLI premiums are set to 0.9% of the employee's wage, with 0.45% paid by the local government and 0.45% paid by the employee. Local governments may also elect to pay some or all of the employee share if they choose to offer this as an added perk for their employees.

In the Fall of 2022, the local government

must

register in the FAMLI system and create an account like any typical private sector employer. 

Local governments which decide to participate in FAMLI will begin deducting FAMLI premiums from its employees on January 1, 2023. Initial premium payments for Q1 of 2023 will be due on April 1, 2023, with a 30-day grace period.
The local government's governing body

must vote

to decline all participation. 

The local government

must

register in the FAMLI system to notify the FAMLI Division of their vote to decline participation. 

Employees still have the option of self-selecting FAMLI coverage if their local government employer votes to opt out. 

Employees who voluntarily want to participate will need to register in the FAMLI system like an independent contractor. These employees will be responsible for self reporting their wage data and remitting a quarterly premium into the system. 

Local government employers who vote to decline participation in the FAMLI program are not required to have an equivalent paid leave plan in place.

The vote to opt out of FAMLI must be revisited every eight years.
This option allows a local government agency to decline to pay the employer share of the premium, while still supporting employees who want to participate by voluntarily deducting and remitting the employee share of the premium (0.45% of wages) and corresponding wage data to the Division every quarter.

This allows employees to voluntarily opt into the program without having to worry about the administrative burden of remitting their own premiums and wage data every quarter.

The local government's governing body must still

vote to opt out of paying the employer premium.